John Deere introduces two new products aimed at increasing precision and productivity for primary tillage and nutrient application.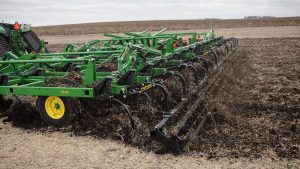 The 2430 Chisel Plow and 2430C Nutrient Applicator share common new features that differentiate them from the 2410 models they replace, including the TruSet

precision depth control system, radial tires and rear hitch.
For both the chisel plow and nutrient applicator, TruSet provides the documentation and prescription functionality producers demand when coupled with other John Deere precision ag technologies like Generation 4 Displays and the John Deere Operations Center. The TruSet Side-to-Side option is available for individual section depth control for 3- and 5-frame models of the 2430 Chisel Plow and the 2430C Nutrient Applicator, depending on configuration.
Learn more about these new products from John Deere or contact your local John Deere dealer.