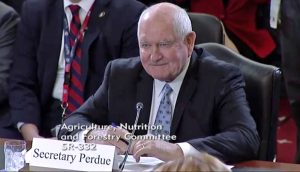 Tuesday was the first anniversary for Sonny Perdue as Secretary of Agriculture and he spent it briefing the Senate Agriculture Committee on The State of Rural America.
"It's a fascinating job," said Perdue. "Even more broad and vast and deep and wide and impactful than I could have ever imagined."
Most of the questioning for the secretary revolved around trade issues and the farm economy. Addressing Committee Chairman Pat Roberts, Perdue said, "Mr. Chairman you are fond of saying we're in a rough patch, and I certainly agree with that, but I fear that it's moved to the whole farm, not just one patch."
Listen to opening comments and questioning by Sen. Roberts and Sen. Debbie Stabenow (D-MI).