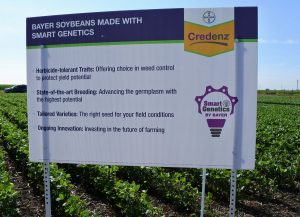 Bayer CropScience is seeing rapid growth in the use of its Credenz soybean varieties. In 2018, Credenz sales broke into the top ten out of more than 150 soybean brands available in the United States.
The strength of the Credenz soybean brand continues to be the fact that it is based on the LibertyLink system, which is outstanding for both weed control and elite genetics, according to Bayer agronomist Monty Malone.
"Going forward, Credenz will remain the same focus of being grower choice. Any trait platform that is in need that can serve as a tool to a grower, we will definitely try to provide that within the Credenz brand," said Malone, who noted that over 90 percent of the Credenz portfolio is enabled by Liberty.
Malone was at the 2018 Commodity Classic in Anaheim.
Listen to Jamie's interview with Monty here: Interview with Monty Malone, Bayer – Credenz History
Bayer at 2018 Commodity Classic Photo Album
Photos, video, and audio interviews from Bayer at Commodity Classic