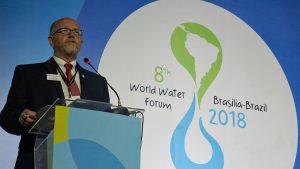 The 8th World Water Forum, held in Brazil last month, drew more than 20,000 participants from 170 countries to focus on the challenges and solutions to ensuring water security around the world. The Robert B. Daugherty Water for Food Global Institute at the University of Nebraska (DWFI) coordinated the Water for Food track of sessions with the Food and Agriculture Organization of the United Nations.
The institute organized a High Level Panel on Water for Food, moderated by DWFI executive director Peter G. McCornick, featuring international leaders who shared their views and experiences on ways organizations and nations can work together to improve food security and successful farming production, conserve natural resources and mitigate the effects of climate variability.
"We are building awareness of the urgent importance of looking at water issues differently, especially when it comes to agriculture," said McCornick. "If we're not including agriculture in the water security challenge, we're ignoring 70 percent of the equation, and missing the opportunity to increase resilience in our food systems. Nebraska has a lot of expertise to share, as well as a lot to gain through our involvement with the many partners participating in the World Water Forum – developing potential projects that will further our goal of ensuring water and food security."
DWFI also held a side event to discuss ways in which organizations can support farmer-led agricultural production, including access to irrigation for small-scale farms.
Listen to my interview with McCornick here: Interview with Peter McCornick, Daugherty Water for Food Global Institute