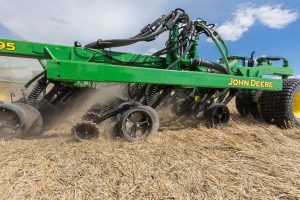 Small-grain and oilseed producers can now plant more acres faster and more accurately with the introduction of the 60 foot 1895 No-Till Air Seeder from John Deere, which is 40 percent wider and incorporates many new technologies designed to improve seed and fertilizer placement, while decreasing soil disturbance and maintenance demands.
Highlighted features of the 60-ft. (18.29m) 1895 Seeder include the new ProSeries

Openers, RelativeFlow

blockage warning system, TruSet

in-cab downforce pressure control, and larger, high-floatation tires for less soil compaction when operating in the field. When combined with an air cart and NH₃ wagons, the 1895 provides the ultimate single-pass seeding system for producers of small grains and oilseeds.
The new ProSeries Openers, which replace the 90 Series Openers, will be available for the first time on the wider 1985 and expanded to other models in the future. These performance-driven openers feature a serrated closing wheel option for better seed and fertilizer sealing, narrow and flexible press wheels along with a narrow seed boot for reduced soil disturbance while ensuring more precise seed placement.