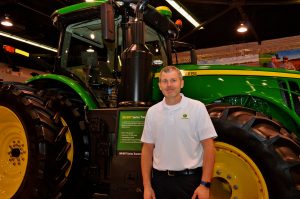 John Deere Connected Support

Expert Alerts was honored by the American Society of Agricultural and Biological Engineers (ASABE) with the AE50 Award for 2018 as one of the most innovative designs in product engineering in the food and agriculture industry. But for John Deere dealers, what it means is helping their customers reduce downtime and save money, and that gives farmers who buy John Deere equipment piece of mind.
"What's really cool is that we have embedded technology on our machines," said Deere Product Marketing Manager Scott Brotherton during an interview at Commodity Classic. "In the event that something should happen in the field, this technology will alert the dealership and make them aware of the problem."
Expert Alerts utilizes JDLink

machine connectivity and data analytics to predict service needs, reduce diagnostic time and minimize downtime. This results in higher levels of machine availability, improved machine performance and lower cost of operation. "Customers are starting to see the value first hand because the dealers are so much more responsive," said Brotherton.
Learn more about Deere Connected Dealer Support in this interview: Interview with Scott Brotherton, John Deere