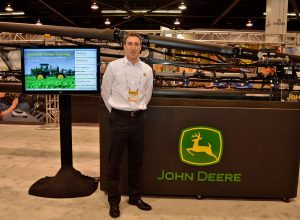 John Deere is giving farmers the opportunity to bring existing sprayers up to speed with ExactApply technology through retrofit kits now available from local dealers. Application quality is vital to a grower's success, according to Doug Felter, product marketing manager for application equipment with John Deere.
"Being able to change nozzles on the go is something that is exclusive to John Deere," said Felter. "Being able to use the front nozzle, eventually switch to maybe a larger nozzle as we go faster, or even use both of those nozzles in tandem, opening up a lot wider range of application."
Felter said John Deere also offers nozzles that pulse up to three times faster than the industry standard. ExactApply retrofit kits are available for all R4030, R4038 and R4045 Sprayers manufactured since these models were introduced and that are equipped with stainless-steel plumbing and steel booms, no matter the boom size. Kits include new ExactApply nozzle bodies, new electrical boom harnessing to power and control the nozzles, and a higher capacity alternator for the machine to provide for the added electrical power demands.
Listen to Jamie's interview with Doug here: Interview with Doug Felter, John Deere