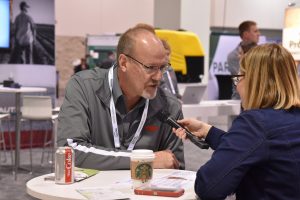 FMC Agricultural Solutions introduces a new tool to combat resistant weeds, Authority® Supreme herbicide. And just in time for the 2018 growing season. The U.S. EPA and Canadian Pest Management Regulatory Agency have granted registration in soybeans, sunflowers and dry field peas.
Authority Supreme herbicide provides two effective sites of action to combat some of the toughest resistant weeds. The combination of a best-in-class Group 14 PPO herbicide with the newest Group 15 herbicide molecule enables long-lasting residual control of small-seeded broadleaf weeds and grasses. The new herbicide is effective against ALS, triazine, HPPD, ESPS (glyphosate) and PPO herbicide resistant weed biotypes.
It controls a wide spectrum of weeds including waterhemp, Palmer amaranth, pigweed, nightshade, lambsquarters, kochia, morningglories, smartweed, foxtail, barnyard grass and fall panicum.
We caught up with Brent Neuberger, senior technical service manager for FMC at the recent Commodity Classic and he said, "Whether growers already have resistant weeds or they are trying to avoid the development of resistant weeds, the best strategy is to start clean and stay clean. With multiple sites of action and excellent residual activity, Authority Supreme® herbicide reduces selection pressure and creates a window for timely postemergence treatments."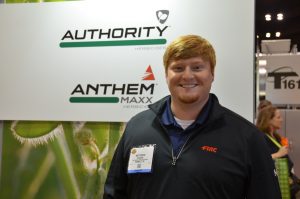 Listen to Chuck's complete interview with Brent here: Interview with Brent Neuburger, FMC
We were also able to learn more about the capabilities of the Authority Supreme herbicide during the Mid-South Farm & Gin Show. Matt Wiggins, technical services manager, FMC, said Tennessee is beginning to see resistance on grasses and this would be a perfect product in that fight.
"Just like all residual herbicides, we are going to need a good half inch of rain to get this product activated. It is going to be a very good, consistent and strong performer," said Wiggins. He added that growers at the show are excited about these active ingredients and what it can offer them.
Listen to my complete interview with Matt here: Interview with Matt Wiggins, FMC
View and download photos from the event here: 2018 Farm & Gin Show Photo Album
View and download photos from the event here: 2018 Commodity Classic Photo Album