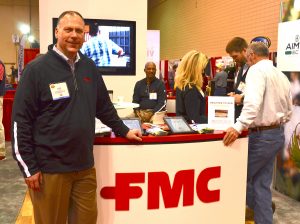 No doubt the FMC team is excited about the aquciaiton of the DuPont product line. Strong brands were brought over in insecticies, fungicides and herbicides. FMC Regional Business Manager, Chris Reats, shared more on the growth of the FMC portfolio at the recent Mid-South Farm & Gin Show.
"It's been a great transition. We just got into this last November and we are through the hard parts. Here in March 2018, we feel like we are a long way along the way. We have a really great company this year," Reats said.
As the business side of FMC expands, so do options for growers. "We hope it will be a positive thing they will experience. Traditionally, FMC has been a pretty lean company as far as representation. This new acquisition has allowed us to be right staffed. We have more people in the geographies to help us serve. You will see more of us in the field. The people we have brought on are super and we are actually in a hiring mode," Reats said.
Learn more about the growing FMC portfolio and expansion here: Interview with Chris Reats, FMC
View and download photos from the event here: 2018 Farm & Gin Show Photo Album