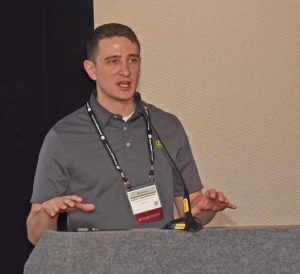 This year's Develop with Deere conference in Kansas City was the biggest yet, showing growth in the demand for the opportunity to learn more about data flow and the tools available to help farmers make the most of the information they collect on their farms.
"This conference is really valuable for the software companies to learn some of what not only we provide in terms of data and connectivity, but also what John Deere dealers are looking for and how they can help make all that work. So we're all kind of working together to achieve that goal," said Randy Kasparbauer, API Product Manager for John Deere.
He said dealers have common problems around collecting precision ag data and making it useful for their customers. Solutions will differ according to geography, crop type, and equipment, but the conference represents an opportunity to get together and work through some of those issues.
Listen to Chuck's interview with Randy here: Interview with Randy Kasparbauer, John Deere
You can find conference photos here: 2018 Develop with Deere Conference Photo Album