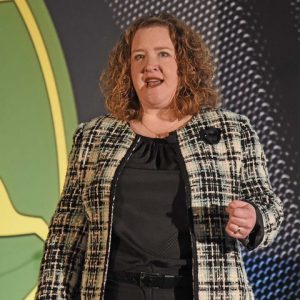 Precision agriculture is giving farmers more and more tools to use in their operations, but it continues to be complex. That's one reason the company has offered the Develop with Deere Conference to allow farmers, dealers and developers an opportunity to collaborate, said Deanna Kovar, director of production and precision ag marketing with John Deere.
"It's not just about John Deere equipment and technology. It's about the support our dealers provide to farmers all across the U.S. and Canada to help them select the right tool for their farm," said Kovar. "We believe that it's really important for our dealers to understand all of the options that are out there, and really create that solution to make the Gen 4 display that's in a lot of tractors, combines and sprayers today as well as a universal option, plus the John Deere Operations Center, work for every farm and how they farm."
She said the conference is a great example of John Deere understanding that farmers don't farm alone, and that the company cannot provide all the tools they need to make decisions on the farm. More than 240 dealers attended this year's conference.
Listen to Chuck's interview with Deanna here: Interview with Deanna Kovar
You can find conference photos here: 2018 Develop with Deere Conference Photo Album