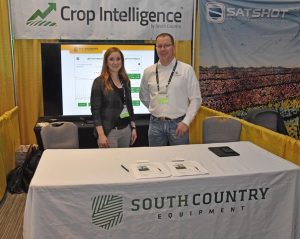 Some of the John Deere dealers who attended this year's Develop with Deere conference are also developers. Ryan Hutchison with South Country Equipment in Regina, Saskatchewan, has been working on the John Deere Field Connect application. The app takes data, applies agronomic knowledge from the grower and the agronomist, and incorporates weather information to develop what he calls "crop intelligence."
"With our agronomy team and feedback from our growers, we needed to develop a very quick way for growers to get insights that are actionable from Field Connect data that they can make decisions with in season, immediately," said Hutchison.
South Country Equipment Agronomist Kendall Gee said one example would be calculating water driven yield potential and showing customers where they stand throughout the season so they can make data driven decisions, understanding what is going on below the ground in their fields.
"They're excited to have an edge over their neighbors, to have some more data to support their decisions," said Gee. "Many of our customers are very analytical driven. If they have better information to make better decisions, they're happier campers."
Gee said even though farmers can't control the amount of moisture they have in a dryland farming situation, there are many other factors they can control to best manage the crop in any given year.
You can here Chuck's interview with Ryan here: Interview with Ryan Hutchison, South Country Equipment
You can here Chuck's interview with Kendall here: Interview with Kendall Gee, South Country Equipment
You can find conference photos here: 2018 Develop with Deere Conference Photo Album