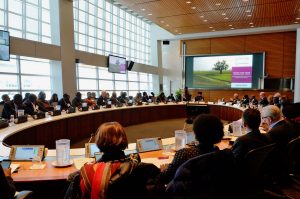 The Water for Food International Forum last week ended on a high note as more than 40 high-level participants from around the globe shared their vision for and commitment to how the private and public sectors can work toward expanding access to irrigation.
Kicking off the very large round table discussion was World Food Programme Ambassador Ertharin Cousin, Distinguished Fellow Chicago Council on Global Affairs. Cousin gave a passionate address about the critical importance of irrigation. "When asked what keeps me up at night, I talk about irrigation," she said. "Because to achieve the outcome of ending hunger, irrigation is manifest."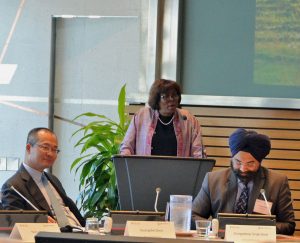 Cousin says she is pleased to see the partnership between the Daugherty Global Institute at the University of Nebraska and The World Bank. "What (they) have done is catalyze the conversation," said Cousin. "This conference began the dialogue amongst leaders about what's already happening and what we need to do differently.
"We will end hunger and we will make agriculture productive across the global community," Cousin says confidently.
Listen to Cousin's inspiring address and my interview with her by clicking on the links below:
WFF18 Ertharin Cousin, Ambassador World Food Programme
Interview with Ertharin Cousin, Ambassador World Food Programme
Water for Food Virtual Newsroom
2018 Water for Food Forum Photos