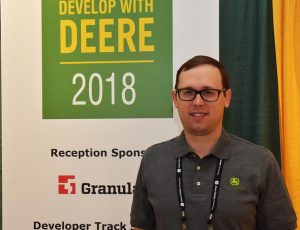 The 2018 Develop with Deere conference saw growth in the number of local equipment dealers attending, as they continue to seek solutions that will help their customers.
"They're certainly looking to fill gaps in the Operations Center that are specific needs to their customers in their areas. That varies greatly," said Brad Silva, Platform Marketing with John Deere. "It doesn't matter what the solution is – a lot of interest across the board from the dealer group."
Silva said 2018 John Deere combines and sprayers will now be equipped with the Generation 4 CommandCenter, which is already available on large tractors. The benefits include real time streaming into the Operations Center every 30 seconds. But the Generation 4 data format is not compatible with John Deere's legacy system, APEX. Dealers are looking to help their customers get into that new Operations Center, possibly with the help of software tools represented at this year's conference.
You can here Chuck's interview with Brad here: Interview with Brad Silva, John Deere
You can find conference photos here: 2018 Develop with Deere Conference Photo Album