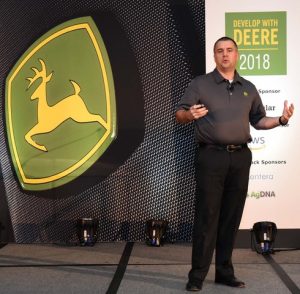 In an effort to help local dealers build better relationships with the software companies that often provide third party support to growers, John Deere again invited both groups to its 2018 Develop with Deere conference.
"We're going to continue to add more and more solutions that can be built off the John Deere Operations Center platform and then that will cause us to continue to grow the conference as well to be able to get more of those solutions in front of the dealers," said Kevin Krieg, a software segment manager with John Deere.
Krieg said John Deere machines generate lots of data, and software companies often supplement that and bring in things like aerial and satellite imagery, scouting apps and other tools to fill in the gaps of what is happening within the fields. The conference offered classroom sessions for dealers as well as the Solutions Expo trade show, where dealers could interact with and learn more about software companies and the products they offer.
You can here Chuck's interview with Kevin here: Interview with Kevin Krieg, John Deere
You can find conference photos here: 2018 Develop with Deere Conference Photo Album