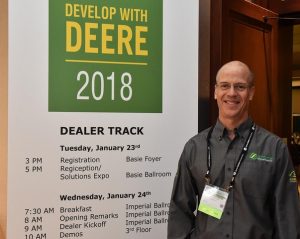 John Deere dealers like Tom Rosztoczy with Stotz Equipment came to the 2018 Develop with Deere conference to learn about the newest technology in the industry, identify additional vendors to bring to customers, and network with other dealers.
"We think the combination of John Deere's operation center and other software platforms is going to enable us to actually take precision agriculture and turn it into actual value for farmers," said Rosztoczy, who serves the Mountain West area with 25 stores in eight states. "It takes us from data to knowledge and action."
Rosztoczy said it is difficult for farmers to keep up with the quickly evolving technology. He believes it is his job stay in touch with the technology and help bring solutions to farmer customers.
You can listen to Chuck's interview with Tom here: Interview with Tom Rosztoczy, Stotz Equipment
You can find conference photos here: 2018 Develop with Deere Conference Photo Album