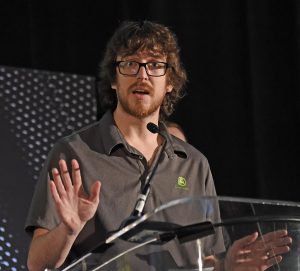 Josh Carson is an API Evangelist for John Deere who was an integral part of Develop With Deere. There's a title you don't see everyday. I think it pretty much qualifies you as a top level AgNerd! I asked Josh what his job is all about and he said, "My whole job is to make APIs awesome."
By making APIs awesome Josh is helping more and more companies create integrations with John Deere's APIs. In case you don't know what an API is here's a short explanation. API stands for application program interface. So basically, it is a set of code to help build software applications since the API is what helps software components interact properly. In this case the APIs are helping third party developers create useful integrations with the John Deere Operations Center.
Josh works with two distinct groups. First are the internal software developers and data teams. Second are the external software companies where he helps them work with John Deere APIs. Why? Because as he says, "John Deere is not farming alone. Farmers don't farm alone. No one solves farming alone." Josh says John Deere offers a lot of help with developers and the conference provides face to face interaction and training.
You can listen to my interview with Josh here: Interview with Josh Carson, John Deere
You can find conference photos here: 2018 Develop with Deere Conference Photo Album