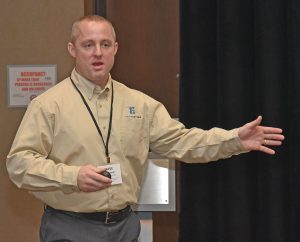 Farmers who enroll in the Soil Health Partnership gather lots of data regarding what is happening on their farms. To help them characterize what's happening from a business performance outcome as they go through the program, there are specific data platforms and methods available.
"There are plenty of opportunities where we can focus in very specifically on the business outcome and understanding how that varies within our fields, and get to the kinds of soil health, conservation and sustainability outcomes that the supply chain is requiring of us right now," said Dave Muth, vice president of agronomic planning and sustainability for EFC Systems. "And that ability to get that context behind the 'make more money' piece, or at least very tightly integrated with that profitability story is the critical piece that we try and work through."
Muth led a breakout session at the 2018 Soil Health Summit and also participated in a general session during the conference. He said farmers need to understand where they have separate functioning businesses within their fields, they can calibrate their business plan better to deal with that.
Listen to Chuck's interview with Dave Muth here: Dave Muth, EFC Systems
2018 Soil Health Summit Day One Photo Album