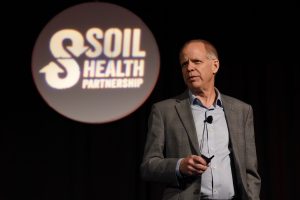 The keynote speaker at this year's Soil Health Summit told participants they need to get involved and understand how the global economy affects innovation and the regulatory environment regarding agriculture. Sustainability is a key factor globally, and many of those efforts are tied to the soil.
"We have a lot of very emergent technologies, disruptive technologies we're working on, and they're all based in the soil," said Dr. Robert Graney, who is in charge of regulatory science for Bayer North America, including regulatory affairs outreach and product safety from an environmental and human health perspective. "I think in the future, there's much more emphasis on what's happening in the soil from an overall plant health perspective as opposed to what's happening above ground. So we're definitely investing in that area."
Graney said other challenges include trade flow and regulation at a local or state versus federal level.
Listen to Chuck's interview with Dr. Robert Graney here: Dr. Robert Graney, Bayer
2018 Soil Health Summit Day One Photo Album