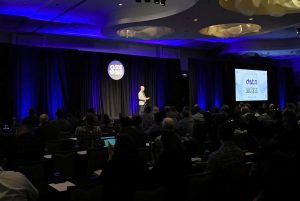 The 2018 Soil Health Summit kicked off yesterday in Chicago and all of the proceedings can be found on the Soil Health Summit Blog! This is a brand new blog which is being used to feature photos, interviews and other media content from this annual event. You can subscribe to the Soil Health Summit Blog with this feed link.
This is the fourth Soil Health Partnership Summit, which has come a long way since the first one in 2015. Soil Health Partnership Director Nick Goeser welcomed participants to the opening day general session of the 2018 Soil Health Summit, setting the stage for the theme Rooted in Data, Growing in Success.
Listen to Nick's welcome here: SHP director Nick Goeser opens 4th Soil Health Summit
Check out the official blog for all the content from the summit.