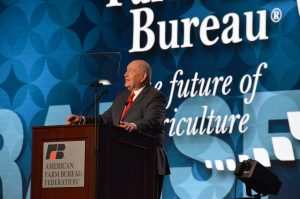 U.S. Secretary of Agriculture Sonny Perdue set the stage for his boss and our president Donald J. Trump to address the largest general farm organization in the country Monday.
Perdue highlighted accomplishments of the Trump Administration related to agriculture and discussed the importance of trade and NAFTA in particular to U.S. agriculture. "To get a deal, we need all sides to seriously roll up their sleeves and get to work," Perdue said. "We have put a number of proposals on the table to modernize NAFTA, and critically for agriculture, to address key sectors left out of the original agreement – dairy and poultry tariffs in Canada. Now, we want to see our negotiating partners step up and engage so we can get the deal done."
Perdue also noted that USDA has been rolling back excessive regulations following a directive from President Trump, including WOTUS, the Waters of the U.S. rule which was the subject of Farm Bureau's Ditch the Rule campaign. "You know, sometimes a mud puddle is just a mud puddle," Perdue said. "We don't need the federal government coming in and regulating everything to death."
The secretary also officially presented the findings of the President's Interagency Task Force on Agriculture and Rural Prosperity.
Listen to Perdue's address here: USDA Secretary Sonny Perdue at AFBF18
Click here to watch it on video.
2018 AFBF Convention Photo Album
WATCH LIVE or click for archived video
Watch President Trump live from AFBF starting at 3:00 pm central.