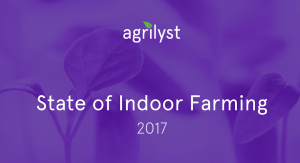 We first met Allison Kopf, founder and CEO of Agrilyst, at Alltech's 2017 ONE. There she took part in the first Pearse Lyons Accelerator program. As a reminder, Agrilyst is a "web-based software platform that helps indoor farms manage their crops and gain data-driven insights to make more profitable production decisions."
Allison and her team have now released a 2017 State of Indoor Farming report to recap how the industry grew last year and the outlook for the future. Emerging trends, challenges, and benefits of farming indoors are just a few highlights the report tackles. Agrilyst received over 150 responses from growers in 8 countries.
Top five takeaways:
1. Yields for hydroponic leafy greens grown in a greenhouse are about 12.6x that of conventionally grown lettuces.
2. Leafy greens grown hydroponically in a greenhouse can have a 46% profit margin.
3. 56% of the operating expenses of an indoor vertical farm are due to labor.
4. Automation topped the list of technologies growers are most excited about.
5. Container farms topped the list of technologies growers are least excited about.