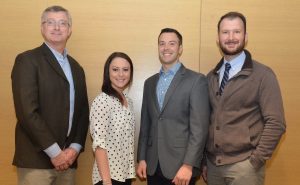 The National Council of Commercial Plant Breeders (NCCPB) represents member companies in the business of plant improvement. So, a perfect place for them to award their Graduate Student Plant Breeding Award was the recent American Seed Trade Association (ASTA) CSS & Seed Expo in Chicago, IL.
NCCPB offered three graduate student currently pursuing a PhD. in plant breeding awards of $2,500 each and an invitation to attend the CSS 2017 meeting with expenses paid.
We were able to sit down with the three recipients to learn more about their research and future plans in the seed industry. Meet Race Higgins, Iowa State University; Mitchell Schumann, Texas A&M Univerisity; and Stacie Shuler, University of Wisconsin.
Listen here: Interview with NCCPB Scholarship Winners