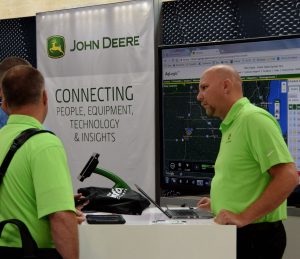 The American Society of Agricultural and Biological Engineers (ASABE) recently honored John Deere Connected Support – Expert Alerts with its AE50 Award for 2018. Expert Alerts helps producers to minimize downtime during their busiest seasons by predicting service needs and reducing diagnostic time using JDLink machine connectivity and data analytics. Customers and dealers can reduce service costs and experience fewer service interruptions when they use this technology.
"Expert Alerts provides remote machine monitoring and notification to John Deere dealers, which enables them to contact customers about an impending or potential issue, and often gives dealers solutions to resolve the issue," said Jeremy Goebel, aftermarket product development manager for John Deere. "John Deere Connected Support tools enable dealers to proactively support customers, which results in customers experiencing less downtime, or sometimes avoid downtime altogether, leading to increased productivity and profitability."
The AE50 award highlights the year's most innovative designs in product engineering in the food and agriculture industry, as chosen by a panel of international engineering experts.