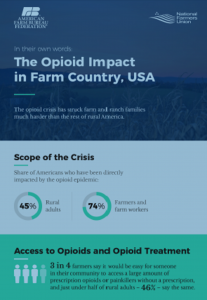 Two of the nation's largest farm groups plan to work together in response to staggering numbers released in a recent survey on opioid abuse in rural America.
The Morning Consult survey shows farmers and ranchers are more affected than the rest of their rural neighbors, with 74 percent confirming they've been directly impacted by opioid abuse. The American Farm Bureau Federation (AFBF) and National Farmers Union together sponsored the survey, and those groups will collaborate on how to fight opioid addiction on America's farms and ranches.
"This is a new challenge," said Will Rodger, director of policy communications for AFBF. "It's not the boll weevil, it's not the Dust Bowl, but it's something just as tough and something just as potentially fatal, and we need to start getting moving on this."
Rodger said the groups don't have a specific plan in place just yet, but the process will begin with conversations.
"You can't beat this problem unless you address it. The worst thing we can do is to judge people for mistakes that they or others may have made. The best thing we can do is to get them the help that they so desperately need," said Rodger.
Listen to the full interview here: Interview with Will Rodger, AFBF