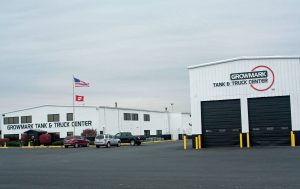 Bolt cutters instead of scissors cutting through a chain instead of ribbon marked the grand opening of GROWMARK's new Tank and Truck Center in Morton, Illinois last month.
The bolt cutters were a last minute change when weather forced the celebration inside. Tank and Truck Center Sales and Operations Manager Mike Davis says they were supposed to use a blow torch to cut the chain. "It wasn't quite as dramatic an effect as we wanted but it symbolized what we do – we manufacture stuff and we can make changes on the fly," said Davis.
The buildings at the Morton location had been vacant for some time and it was a perfect match when GROWMARK's Tank and Truck Center near Tremont was in the market for a bigger home. "It's around 30,000 square feet of office and shop space," said Davis. "Since the building was empty we could go through and make it what we wanted."
The Morton center is one of six that GROWMARK maintains, with three more in Illinois and two in Iowa, and Davis says they have plans to open more in the future. The facilities serve the general public as well as GROWMARK System members.
Learn more in this interview: Interview with GROWMARK Tank and Truck manager Mike Davis