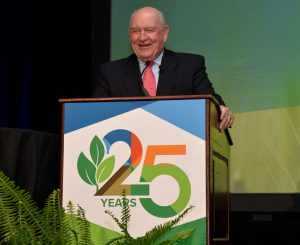 Secretary of Agriculture Sonny Perdue topped off the ARA Conference and Expo on Thursday in Phoenix, covering a broad range of topics in his comments including tax reform, de-regulation, trade, food security, infrastructure, school lunches and the farm bill.
Perdue, who noted his past experience in the fertilizer business and with ARA's predecessor organization, the National Fertilizer Solutions Association, talked extensively about the tax reform bill currently under debate in the Senate. He encouraged those in the business of agriculture to contact their representatives in Washington, D.C., to communicate their corporate and individual interests.
"Farming is a great lifestyle, but you don't get to do it very long as a lifestlye if you don't make money at it," he said. "You need to speak through your associations, but you also need to speak independently. Talk to your members of Congress and let them know what's on your mind. Weigh in on what you like about (the tax reform bill), what you don't like about it."
Perdue also stressed the need for development of rural broadband to maximize technological innovations within agriculture. Precision agriculture depends on broadband everywhere, he said.
Listen to or download his entire remarks and press gaggle –
Secretary Perdue at ARA2017

Secretary Perdue press gaggle

2017 ARA Conference and Expo Photo Album