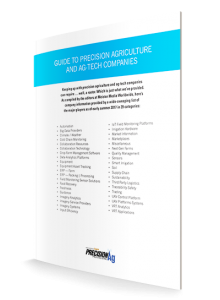 This looks like a good resources to have. It's the "Guide to Precision Agriculture and Ag-Tech Companies" from Meister Media Worldwide. Just click on this link to get your copy.

Staying on top of the hundreds of product and service providers in precision agriculture and ag-tech companies can be difficult.
With this FREE guide compiled by the editors of Meister Media Worldwide, you'll have a list of the major players as of summer 2017 in nearly 40 categories including data analytics, guidance, imagery, Internet of Things field monitoring, sensors, smart irrigation, UAVs, and variable-rate technology.