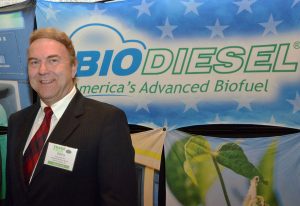 Midwest soybeans are fueling the country from coast to coast. The National Biodiesel Board (NBB) has a goal of supplying 10 percent of the nation's diesel fuel by the year 2022, equating to about four billion gallons per year. NBB Board Member and Nebraska Farmer Greg Anderson said the northeast market for heating oil is a bright spot, while California will soon be the number one market for biodiesel. He said that's important during a challenging agriculture economy.
"We do have the production capacity to serve this market. We have America's advanced biofuel providing some 64,000 jobs across the country – good paying, clean energy jobs – as well as really making agriculture profitable," said Anderson. "We need biodiesel to keep adding almost a dollar per bushel value to our crop, making soybean oil 11 to 20 cents per pound more valuable, just because of biodiesel."
U.S. farmers grow over four billion bushels of soybeans each year, producing 22 billion pounds of soybean oil. Biodiesel production uses about one third of the domestic soybean crush.
Here more with Cindy's interview from NAFB Trade Talk: Interview with Greg Anderson, National Biodiesel Board