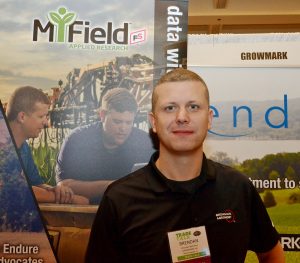 Today's farmers can gather all kinds of information about the crops they plant and harvest, but it can be difficult to know how to use that information to enhance yield and increase efficiency. GROWMARK is providing farmers with a tool to help in MiField Applied Research by FS.
"We can follow certain procedures and not only have that information relative to that grower, but not we can roll it up and incorporate that with maybe 50, 100 or 200 trials that were similar and have a database that we can help provide insight back to that grower," said Brendan Bachman, GROWMARK Applied Research Marketing Manager.
The program is in its second year, with more than 1,000 trials already compiled for growers to use. The company plans to publish a yield book in December and January that will aggregate much of the information. Growers can also visit www.fssystem.com and select the state, county and trial type to research local trials.
Listen to Cindy's interview with Brendan Bachman here: Interview with Brendan Bachman, GROWMARK