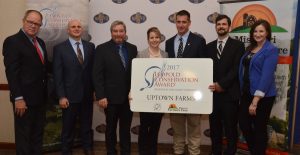 Sand County Foundation and Missouri Farmers Care announced the recipients of Missouri's inaugural Leopold Conservation Award® during the 2017 National Association of Farm Broadcasting's (NAFB) Annual Convention. The Leopold Conservation Award honors farmer, rancher and forester achievement in voluntary stewardship and management of natural resources. This marks the first year this prestigious award has been presented to a Missouri farmer or rancher.
Matt and Kate Lambert own and operate Uptown Farms along with their family in Brookfield, MO. On the family farm they grow corn, soybeans and raise cattle, sheep and kids. Conservation practices aren't a new thing on the Northern Missouri farm. The use of cover crops dates back to the early 90's and they continue to progressively stay-up-to-date on new and improved practices that ensure the family farm will be there for future generations.
Learn more about the Lambert's and their family farm here: Interview with Matt & Kate Lambert, Uptown Farms
The Leopold Conservation Award Program in Missouri is made possible thanks to the generous support of Missouri Farmers Care, Missouri Soybean Association, Missouri Soybean Merchandising Council, Missouri Cattlemen's Association, Missouri Corn Merchandising Council, Missouri Department of Conservation, MFA, Inc., Missouri's Electric Cooperatives, Missouri Association of Soil and Water Conservation Districts, Missouri Soil and Water Conservation Program, and USDA NRCS.