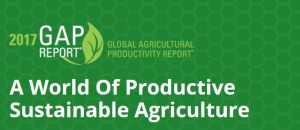 The Global Harvest Initiative 2017 GAP report was released Wednesday at the World Food Prize symposium in Des Moines, and for the fourth straight year it shows that global agricultural productivity growth is not accelerating fast enough to sustainably feed the world in 2050.
"If agricultural productivity growth continues to decline, there will be significant ramifications for the economic vitality and environmental sustainability of food and agriculture systems. Farmers in low-income, food-deficit countries will use more land and water to increase their output, straining a natural resource base already threatened by extreme weather events and climate change," said Margaret Zeigler, executive director of GHI.
The report finds the rate of agricultural productivity growth for low-income countries is only 1.24 percent annually – a decline from 1.5 percent in 2015 and 1.31 percent in 2016. GHI says global agricultural productivity must increase by 1.75 percent annually to meet the demands of nearly 10 billion people in 2050.
Doyle Karr, DuPont Biotechnology Public Policy director and chair of the GHI Board of Directors, says U.S. farmers are concerned about a number of issues that could impact their productivity, including consumer concerns about food production. "The global agriculture sector must renew our commitment to engage in dialogue with consumers through active conversation and collaboration. Farmers and consumers share the same goals, but often there is an information gap between them," said Karr.