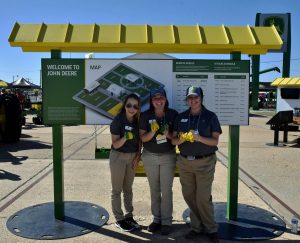 It's not easy being John Deere green – or yellow – especially if you are another equipment manufacturer.
A U.‍S. District Court in Kentucky this week ruled in favor of Deere & Company protecting the use of the trademark green and yellow color combination on John Deere agricultural equipment. The court decision permanently bans the use of the John Deere colors by FIMCO, Inc., a South Dakota company that manufactures and markets agricultural sprayers under the "Ag Spray Equipment" brand name.
The lawsuit asserted that FIMCO's green and yellow equipment infringed on Deere's trademark for the color combination. Deere also claimed that use of the colors by another manufacturer confuses the public as to where the product originated and dilutes the value of the John Deere brand.
The court ruled that John Deere's green and yellow color combination qualified as a "famous" trademark since as early as the late 1960s and that FIMCO intentionally chose green and yellow to create an association with the John Deere brand. The court also found that FIMCO's use of green and yellow was likely to cause confusion among purchasers as to whether its agricultural equipment was manufactured by or endorsed by John Deere.