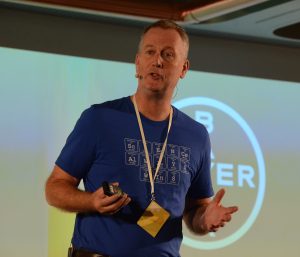 Innovation can mean different things, but Bayer Crop Science Head of Research and Development Adrian Percy describes it this way.
"For me, it's bringing value to growers," Percy said. "It's bringing something new that they need, that will actually help in their operations, perhaps make them more efficient, help them perhaps access different markets, but it's also about bringing something that's acceptable to consumers and that's a lot of what we talked about today."
Percy addressed youth delegates at the 2017 Youth Ag Summit, sharing his excitement about advancements in areas like precision agriculture and plant breeding. He was inspired by working with the youth delegates in attendance.
"What inspires me is the energy, the hope, the passion for what they're doing. They're discovering things about themselves and what they want to do in life. They're seeing agriculture as a tremendous place to be," he said.
Listen to Jamie's interview with Adrian Percy here: Interview with Adrian Percy, Head R&D Bayer Crop Science
View and download photos from the event here: 2017 Youth Ag Summit Photo Album