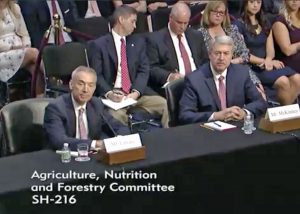 Nine months into the Trump Administration and the Senate Agriculture Committee just held a hearing this week on the first two nominees to help out Agriculture Secretary Sonny Perdue at the USDA.
The committee heard from Stephen Censky, long time CEO of the American Soybean Association nominated to be Deputy Secretary of Agriculture; and Indiana Director of Agriculture Ted McKinney, nominated for the new position of Under Secretary of Agriculture for Trade and Foreign Agricultural Affairs.
Both farm boys with a long history of service in the agriculture industry, the two nominees are not controversial and are expected to be approved whenever the Senate gets around to it.
Here are opening statements from the two nominees at the hearing on Tuesday: Censky and McKinney opening statements