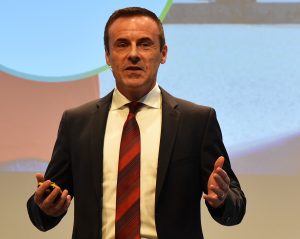 During the 2017 Bayer Future Farming Dialog we heard an address from Liam Condon, President, Crop Science, a division of Bayer.

Focusing in his speech on sustainable agriculture, Liam Condon also reaffirmed the commitment of the Crop Science Division to investing in innovation and developing customized agronomic solutions for farmers that address their individual needs and challenges.
In this context, Condon emphasized that the proposed acquisition of Monsanto presents a tremendous opportunity to positively shape the future of farming. "It is our responsibility to ensure that innovation is made available to farmers large and small, all over the world. Only then can we make a meaningful contribution to ensuring a sustainable world food system."
Condon says that the current expectation of closing the acquisition of Monsanto is in early 2018.
Please listen to Liam's address to hear more: Liam Condon Address
I broadcast the address live on the AgWired Facebook page (about 3am Central time U.S.) and you can watch it below: