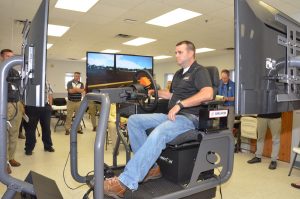 GROWMARK's FS applicator simulator was on display for media this week in Bloomington, IL. The simulator was created as a training module for FS System operators to practice, study, and enhance their ability, knowledge, and safety skills.
"To the best of my knowledge, this simulator is the first of its kind in agriculture being used for training," said Erik Wilcox, GROWMARK manager, crop protection application and equipment. "We continue to identify ways to develop best-in-class operators, and this is one part of our System's robust training program."
With the focus on teaching efficiency and not selling machines, Wilcox said the simulation truly puts you in a real environment. The random obstacles give trainees new challenges each time they sit down. Modules include a road course, a basic field navigation, and an open course. Three screens give operators a full view of surroundings, steering wheel and controls guide the booms and machine's direction and speed, and the mechanical seat moves to simulate real-life bumps and turns.
Listen to all the details from my complete conversation with Erik here: Interview with Erik Wilcox, GROWMARK
View and download photos from the event here: GROWMARK FS Simulator Media Event Photo Album