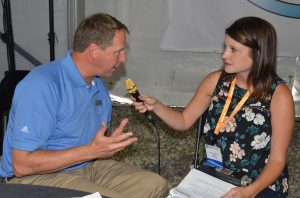 Bayer offers a great deal of technology in today's marketplace, with a pipeline of new technologies coming to growers in the future.
"We're reinvesting into agriculture. We're reinvesting into growers," says Rob Schrick, Bayer Strategic Business Lead for North American Corn and Soy. "We're taking our returns and hiring scientists and putting scientists to work to not only bring the next chemistry, but maybe bring the next trait or bring that next soil microbe that's going to help the grower improve his efficiency and improve his end of the day profit."
Schrick believes digitization and the ability to target challenges down the square foot in a farm field represents the future of the industry. He says breakthroughs in data collection and management will help the next generation of growers to reach higher yields while improving sustainability.
Listen to Jamie's interview with Rob Schrick at the 2017 Farm Progress Show: Interview with Rob Schrick, Bayer
View all photos from FPS here: 2017 Farm Progress Show Photo Album