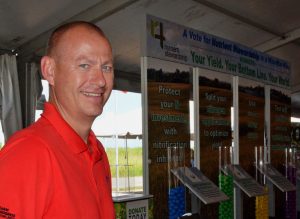 Nutrient management was a focus of GROWMARK's exhibit at the 2017 Farm Progress Show in Decatur. The regional cooperative has spearheaded a number of initiatives to help farmers learn more about nutrient management strategies and to assist them in executing those practices on their farms.
"The main thing we do when we're working with customers is trying to help them with nutrient management plans, strategies in order to overall reduce the amount of nutrients they're using in order to get the most output," says Ryan Hasty with South Central FS. "The main goal is to maximize their yields and do that with the least amount of nutrients to get that yield goal."
Programs like the 4R4U partnership with county Illinois Farm Bureaus and the N-Watch program for nitrogen management are examples of how GROWMARK is helping its customers.
Listen to Cindy's interview with Ryan Hasty at the 2017 Farm Progress Show: Interview with Ryan Hasty, South Central FS
View all photos from FPS here: 2017 Farm Progress Show Photo Album