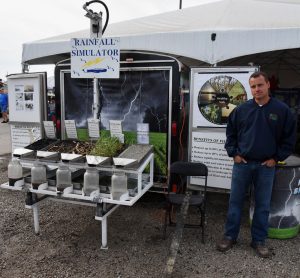 The weather was perfect at the 2017 Farm Progress Show but it was raining in the Soil Health Partnership exhibit.
The highlight of the exhibit was a rainfall simulator, demonstrating the effects of rainfall on different types of management practices. The eye catching display provided an opportunity for the Illinois Sustainable Ag Partnership to promote different aspects of soil management and how those relate to water infiltration and soil health.
"This rainfall simulator shows how much better a healthy soil will take in water. It will reduce erosion, it will have less nutrient runoff," says Jim Isermann, Soil Health Partnership Illinois field manager. "We try to tie that back to the more conventional farmers who are here today in that discussion about soil health and ultimately improving their bottom line over time, recognizing that it's a slow process and it's a long term commitment to soil health."
Farmers who work with the Soil Health Partnership are doing long term studies on ground to see what kind of effect practices such as cover crops can have on both environmental side and bottom line economically.
Listen to Chuck's interview with Jim Isermann at the 2017 Farm Progress Show: Interview with Jim Isermann, Soil Health Partnership
View all photos from FPS here: 2017 Farm Progress Show Photo Album