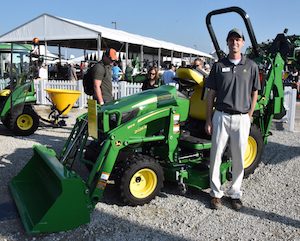 The completely redesigned John Deere 2025R Compact Utility Tractor has a Final Tier 4-compliant diesel engine providing customers with an easy-to-use, versatile machine designed to tackle a variety of jobs. Jon Schebler, product manager for the 2025R series, took us through the specs of the redesigned tractor at the 2017 Farm Progress Show.
"When we think of this kind of tractor, we think about folks who have a small acreage. Maybe they have equine, some livestock and snow removal is a great application for this machine," Schebler added.
The 2025R comes equipped with TwinTouch™ foot controls, allowing the operator to select speed and direction of travel with the light touch of a toe, reducing operator fatigue and increasing productivity. With the addition of the optional Auto-Throttle, the operator can automatically increase or decrease engine speed while pressing on either of the TwinTouch pedals. The 2025R also features equal forward and reverse ground speed, which, when combined with the TwinTouch pedals, allows for faster direction changes.
Listen to my complete interview with Jon here: Interview with Jon Schebler, John Deere
View John Deere photos here: John Deere at #FPS17 Photo Album
View all our photos from FPS here: 2017 Farm Progress Show Photo Album