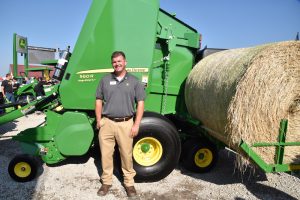 John Deere's 0 Series Round Balers are the first North American-built round baler precutters with the industry's first 5-foot precutter baler. The eight models that comprise the new series build upon the popular 9 Series Balers and include several new features that improve hay pickup and overall baling speed and productivity in the field.
During the recent Farm Progress Show, I spoke with Glenn Padgett, Sr. Marketing Rep, John Deere, to take me through the big machine and all its capabilities. "Now we will give our producers the ability to size crop between two and three-inch pieces as they put it into their bale. It's also going to allow them to eliminate a tough grinding process. Now when they feed their hay, it will reduce mixing time by 75-80% and give cow more palatability at the bale ring," Padgett said.
In addition, John Deere introduced two models of round bale accumulators to give customers the ability to carry up to two round bales behind the baler while making a third bale in the chamber. The new John Deere A520R and A420R Plus2 Accumulators are fully integrated into the design of the balers and can be used with 6-foot diameter John Deere 7, 8, 9 and 0 Series Round Balers.
Listen to my complete interview with Glenn here:Interview with Glenn Padgett, John Deere
View John Deere photos here: John Deere at #FPS17 Photo Album
View all our photos from FPS here: 2017 Farm Progress Show Photo Album