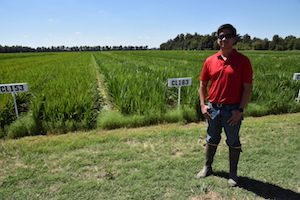 Dr. Chrisitan De Guzman spoke to attendees of the Missouri Rice Council Rice Field Day about varieties in the trial plots at Southeast Missouri State University, answering their questions about his research.
"I believe they are looking for which varieties are most suitable to them because most of our resourceful research here- they try to evaluate it and see if it is applicable to their farms," De Guzman told Jamie. "So I believe for my specialization, which is is rice breeding, it more about which varieties are preforming best here in our region."
De Guzman also spoke about the future of rice breeding, noting that he looks forward to having technologies that allow for more DNA markers. Being able to look at a plant's gene sequence and understanding how it will preform in the field without the need to plant it will really reduce time and expenses to bring new varieties to market. The computational part of managing data is another aspect he sees playing a large role in the future.
To learn more about which varieties grew well in Dr. De Guzman's trials, listen to Jamie's full interview here: Interview with Dr. Christian De Guzman, Southeast Missouri State University
View and download photos from the event here: Missouri Rice Field Day Photo Album
SaveSave