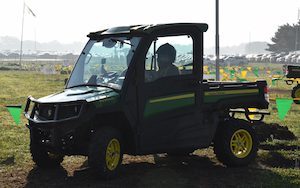 John Deere hosted ag media during the 2017 Farm Progress Show to give us a chance to get behind the wheel of their new Gator utility vehicles, highlighting a redesigned cab, three-wide seating, and heating and A/C.
Designed for customers who need all-day comfort with off-road terrain capability in all seasons, John Deere introduced the new gas-powered Gator XUV835 and diesel-powered Gator XUV865 Utility Vehicles. Chuck spoke with Michael Prada, a John Deere product engineer, who is the man behind this redesigned cab.
"We listened to our customers and realized they wanted to have three passengers, so we made it wider. In addition, we have a full cab built by John Deere including the doors and windshield rear panel. It also has HVAC which is a big step forward. We took a lot of time to develop the ceiling of the vehicles to make sure the performance of the air conditioning and heat is best in class," said Prada.
Listen here to get the full scoop: Interview with Michael Prada, John Deere
Deere also introduced the gas-powered Gator HPX615E and the diesel-powered Gator HPX815E models that offer four-wheel drive for improved terrain capability and superior payload, cargo capacity, towing and overall stability.
Jamie was able to test drive the fully-loaded gas-powered Gator XUV835 and was a big fan of the power steering, A/C and adjustable seats. Join her for the ride.
View and download photos from the event here: 2017 Farm Progress Show Photo Album