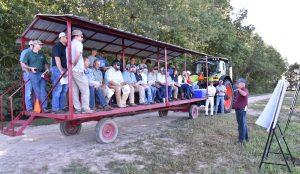 Row rice made quite an impact at the recent Missouri Rice Council Rice Field Day in Campbell, Missouri. Dr. Michael Aide, an agronomy and social scientist at Southeast Missouri State University says row rice is on the rise in terms of market acceptance, but it's still not well known, even amongst attendees at the event.
"Row rice is a concept where we irrigate like we would for soybeans or cotton instead of ponding water six inches deep through the majority of the growing season," Aide explains. And it's all about water conservation. "If we can reduce the amount of water we are using on rice, we will then allow the aquifers to recharge more efficiently," he adds.
In addition to better water usage, row rice also has the advantage of having extremely low levels of arsenic. Aide is quick to point out that even traditionally grown rice has perfectly safe levels of arsenic, but row rice is actually suitable for making baby food, according to USDA standards, and he hopes to bring Gerber back to Missouri with an increase in row rice production.
To learn more about the future of row rice, listen to Jamie's full interview here: Interview with Dr. Michael Aide, Southeast Missouri State University