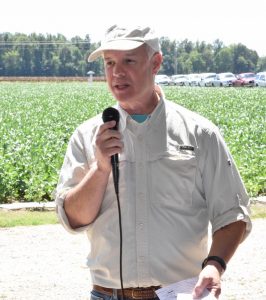 Greg Yielding of the U.S. Rice Producers Association says rice is looking good this year. He brought an outlook message to attendees of the recent Missouri Rice Council Field Day and says growers with good crops need to be deciding now if they'll sell or wait at harvest time. Indicators point to a pretty tight market, he says.
Whatever farmers choose, the U.S. Rice Producers Association is there to help market that rice. They're always on the lookout for new markets- like the current deal with China.
"We took U.S. rice into the stores. We saw that there was a market. We showed the Chinese importers and the supermarkets that there was a market for U.S. rice and now, with this administration, we've finally got a protocol signed so we can begin trade and actually sell rice to China. It's going to be huge for the U.S.," Yielding said. And he believes the deal will happen quickly, with rice heading across the globe within 30 days of China's final visit to the U.S.
The organization is also working hard on a program in Guatemala. They're bringing education to schools, especially small schools, about how to cook and serve rice. In places where the mothers come in to cook the lunch meal, this is especially important because the knowledge of how to cook rice goes home as well. Currently, 100% of the rice purchased in Guatemala comes from the U.S., making this program's impact even more significant.
Learn more about U.S. rice production in Jamie's full interview here:Interview with Greg Yielding, U.S. Rice Producers Association
View and download photos from the event here: Missouri Rice Field Day Photo Album