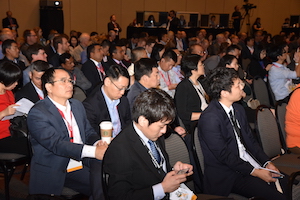 Michele Kennedy Kouadio works with the U.S. Department of Agriculture Foreign Agricultural Services, specifically interacting with the United Soybean Export Council and watching how the organization uses tax payer dollars to promote exports around the world. Kouadio also helps create a better understanding of U.S. soy for international customers and helps growers here diversify soybeans to meet demands, so for her the 2017 U.S. Global Trade Exchange in Omaha, Nebraska is an important event.
"It gets me an opportunity to see our U.S. farmers in action as they interact with and answer questions of our international buyers who are are here," Kouadio said. "Right now we have an audience of about 300 people and we have buyers from, say, roughly 55 countries. The U.S. soy family is active in those markets and we do this through U.S. tax payer dollars, but also through the United Soybean Board from farmer checkoff dollars."
Making the most of those dollars means building relationships with buyers and helping them understand the value of the U.S. soybean. International customers at the Trade Exchange are very appreciative of what they learn at the conference, Kouadio said. And that encourages them to increase their purchases from the U.S.- something the USDA can be happy about as well.
Learn more about tax and checkoff dollars at work in Jamie's interview with Kouadio here: Interview with Michele Kennedy Kouadio, USDA
You can find photos from the event here: U.S. Soy Global Trade Exchange Photo Album