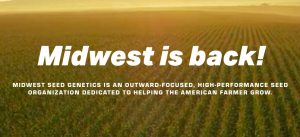 Just a few weeks ago we announced the comeback of seedsmen Don Funk, who is leading a team of entrepreneurs in the launch of Midwest Seed Genetics. While attending the 2017 U.S. Soy Global Trade Exchange, I ran into Wayne Hoener, Midwest Seed Genetics, we sat down to learn what's happened since their debut.
"It has been overwhelming and we are so humbled by this reception. I can hardly keep up whether it's a text, email or phone call. That just tells us that the grower today is looking for a change. What we are doing isn't rocket science. We are just trying to match really good, elite products with a component story and option for growers that's best for them. We also want to be surrounded by great people. It's that simple." Hoener said.
Midwest Seed Genetics has taken on an outward focus. They do the things that growers tell them they want, not what they decide is good for them.
"We believe our seed industry has forgotten there is a use for every bit of this grain we produce in this world," Hoener said. They want to equally focus on the consumer, the poultry and hog integrators, etc. What are they wanting in the products?
Listen to my complete conversation here: Interview with Wayne Hoener, Midwest Seed Genetics
You can find photos from the event here: U.S. Soy Global Trade Exchange Photo Album