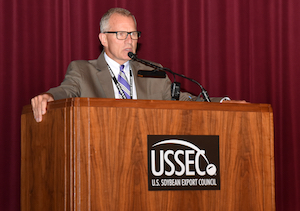 The U.S. Soy Global Trade Exchange & Midwest Specialty Grains Conference and Trade Show in Omaha, Nebraska is running full tilt and Jamie Johansen has it covered. In her interview with U.S. Soybean Export Council (USSEC) CEO Jim Sutter, the two addressed the relationship building essential to trade and the reasons the global market chooses U.S. soy.
"This [event] is just kind of a great opportunity to showcase what USSEC does in terms of networking and building relationships between buyers from around the world and our U.S. export industry and of course the U.S. growers that grow the crop that we help market. Whether a person is buying seed on their farm or buying tractor or a car, whatever it is, I always think there's this personal connection and this event is all about helping to build that personal connection," Sutter shares.
Sutter also spoke to the future of soy. "It's a growth industry," he explains. Everyone from around the world is seeing growth, and that's a reassuring thing, even with low prices. U.S. soy is also sustainable, which is a great story for the United States to tell to the many foreign visitors at the event.
Learn more in Jamie's full interview with Sutter here: Interview with Jim Sutter, CEO U.S. Soybean Export Council
You can find photos from the event here: U.S. Soy Global Trade Exchange Photo Album