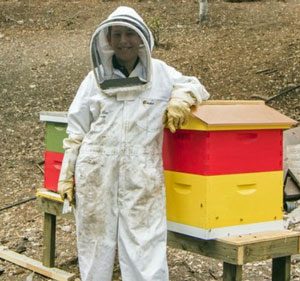 Bayer recently announced the recipients of the fifth annual Bayer Bee Care Community Leadership Award for dedication to pollinator protection and educating their communities about bee health. This year's winners are young beekeeper Jake Reisdorf, and Kirk and Heidi Tubbs of Tubbs Berry Farm in partnership with the Twin Falls County Pest Abatement District.
Bayer expanded the scope of its awards program this year to show support for the future of the beekeeping industry with a new young beekeeper award.
Jake is the first-ever beekeeper under 18 years of age to receive this award, which includes a $1,000 prize to support his school and community honey bee-focused initiatives. Among 20 entries, based on his standout application, 14-year-old Jake was selected for his diversified approach to pollinator health and commendable efforts to ensure that future generations understand the significant impact of bees on the ecosystem.
"It is so cool to receive the Bayer Bee Care Community Leadership Award for my efforts to educate the world about the honey bee," said Jake Reisdorf, owner of the Carmel Honey Company. "With the money I've been awarded, I'd like to fulfill my dream of building an educational center called Pollination World to teach people about all types of pollinators including bees, bats, birds and butterflies."
Learn more about how Jake got started in beekeeping and how he gives back to the community in this interview.
Interview with young beekeeper Jake Reisdorf
Tubbs Berry Farm began beekeeping 10 years ago due to pollination issues and have since become a local resource in Twin Falls, Idaho, for anything related to beekeeping. They were recognized for their pollinator-supportive partnership in the Pacific Northwest for its positive impact in the realm of honey bee health.